TIQ Time Implementation
We help you with a customized solution without the need for custom development, that can be implemented in a matter of weeks.
1-3 months implementation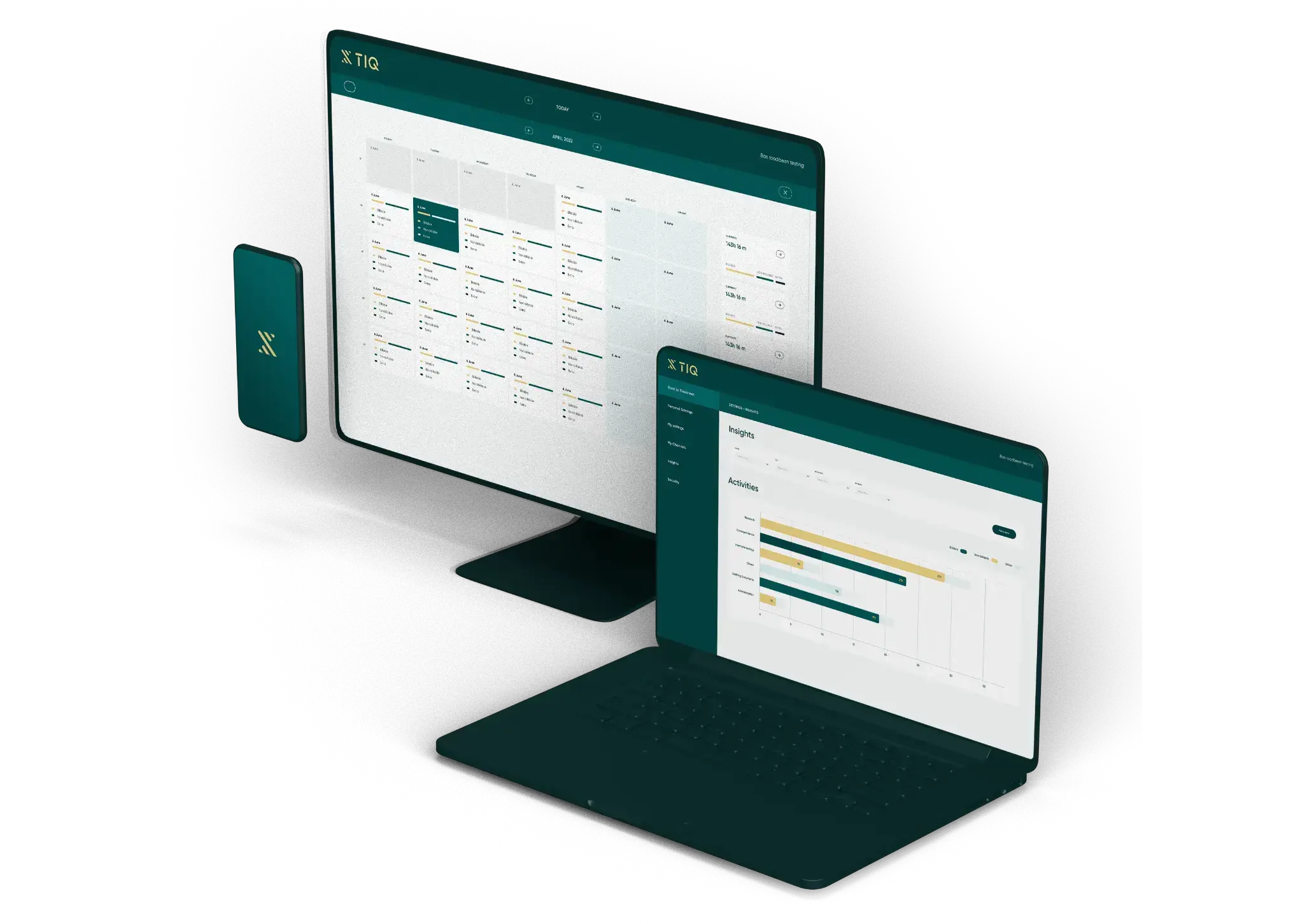 We kick off with an online demo
In a 30-minute online demonstration we will show you how TIQ Time can make a difference for your firm.
Book a demo
Demo
Join us for a 30-minute demonstration and discover how TIQ Time can help fee earners create high-quality narratives for every time entry.

Learn how TIQ Time improves time tracking within your firm, while providing powerful reports that keep lawyers on track with their targets and help finance departments perform completeness checks at month-end.

High quality narratives
Powerful reporting

Set-up
The set-up phase is a crucial and technical stage that establishes the scope of the project.

During this phase, both parties align on the project's purpose, identify the external systems that need integrations, assign responsibilities for each integration and set deadlines.
Implementation and Configuration
During the implementation phase, we create the account, add the users, and configure the application for testing.

As the integrations are completed and tested, our customer success manager will provide guidance to your project manager, assisting them in making informed decisions for achieving the optimal account configuration.

Create account

Configuration
User tests
Go live
During the Go Live phase, we define the go-live date and schedule several training sessions for both trainers and end users.

Our approach follows the "train the trainer" model, where a training session is conducted before the go-live date with individuals who will be responsible for internal trainings.

Train the trainer session
Client's end-user training

Go live day
Customer Success

Meet your succes manager
Albina Tiupa
Customer Success
The Customer Success phase involves regular check-ins to ensure a smooth go-live. We evaluate the initial acceptance of TIQ Time, gather feedback on usage, and implement any necessary adjustments.

Secondly, we focus on setting long-term goals for your organization, identifying areas where you are actively seeking innovative solutions to enhance your operations and maximize the benefits of TIQ Time.
Acceptance evaluation
Feedback and account optimization
Long term goals

Case Studies
Read how TIQ Time is implemented at leading law firms
SOME OF OUR CLIENTS:
ONLY 30 MINUTES
Schedule an online demonstration
Use the form to schedule a personalized online demonstration and learn how:
TIQ Time helps fee earners to create high quality narratives for every time entry.
Your law firm can increase revenues and reduce leakage by using TIQ's time capture capabilities.
Powerful reports help lawyers stay on track with targets, or finance to perform completeness checks at the months end.