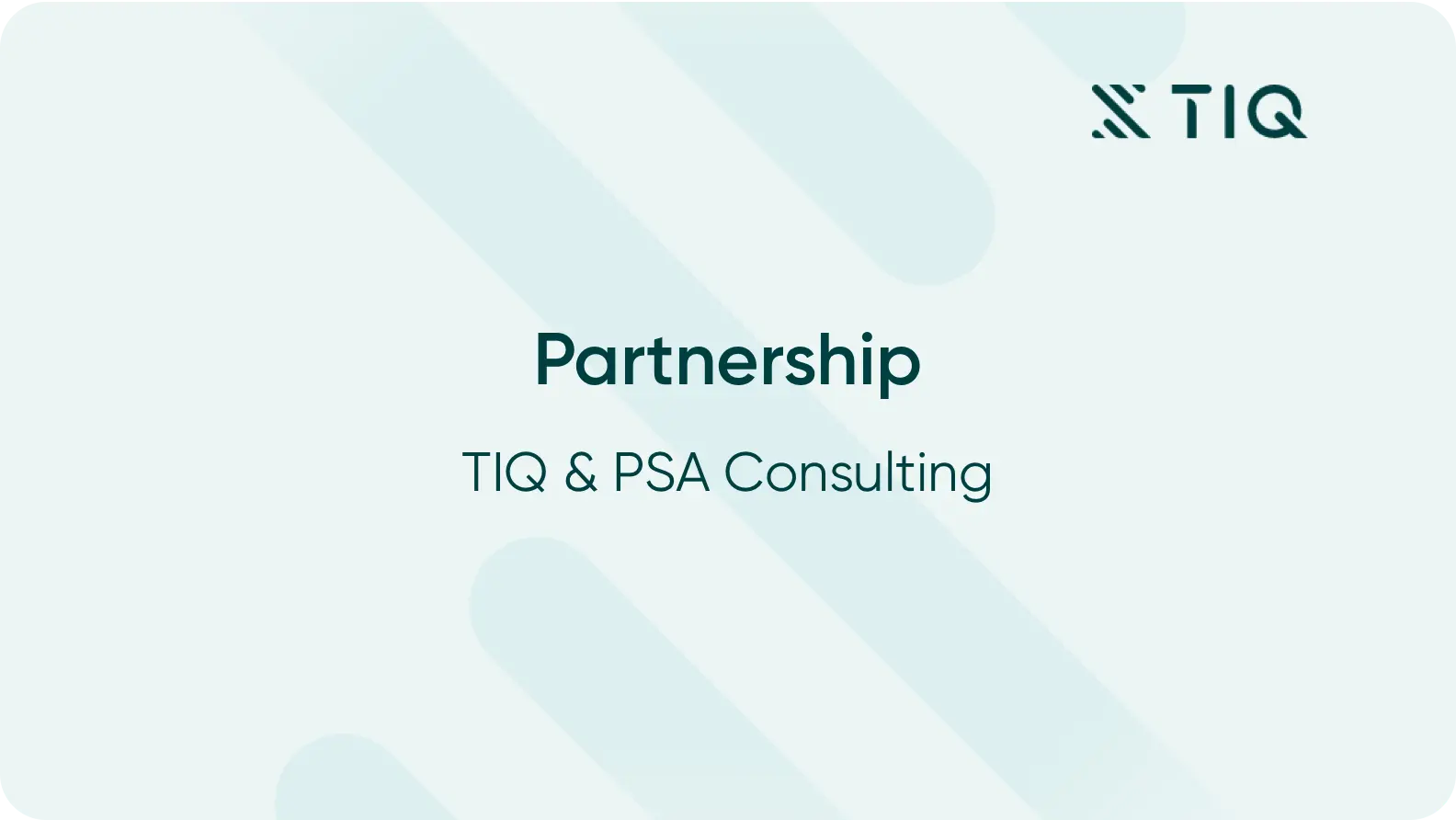 Blog post • 09 Apr 2020
TIQ Time and PSA Consulting enter into partnership for the Nordic legal market
TIQ, a fast-growing SaaS provider for innovative time-tracking solutions purpose-built for the legal industry, has entered into a strategic partnership agreement with PSA Consulting in order to make the successful solution available to the leading law firms in the Nordic legal market.
TIQ Time offers a range of time recording features, from fully automated time capture to manual timers, supported both on the desktop and mobile devices. The software helps fee-earners construct a clear and consistent narrative by using smart suggestions based on the captured activities. TIQ Time offers powerful integrations with practice management and financial systems by design. As part of the partnership, TIQ Time will deliver integrations with Nordic telecom providers, which enables TIQ users to connect telephone calls during the day to clients and matters – automatically.
PSA Consulting will sell, implement and support the solution in the Nordic legal market, and also help clients integrate the solution with their current administrative solutions, such as ERP, Document Management, e-mail and telecom providers. The integrations will be delivered using PSAs integration platform as a service (iPaaS), Custodian, a dedicated iPaaS custom built for Nordic Professional Services Companies.

"Working with leading law firms and other professional services companies in the Nordics for a long time, we see that modern integration solutions and technology finally can give the firms the freedom to choose the best of breed solutions for each critical business process. The time tracking solutions included with most ERP systems do not live up to the expectation of the modern knowledge workers" says Martin Flatsetø, Managing Partner of PSA Consulting. "By selecting innovative, dedicated solutions like TIQ for key processes, and using integration tools like Custodian, users are free to engage 100 % with their clients, and let the system suggest the hours to be registered and billed."
Martin Flatsetø
Managing Partner PSA Consulting
"PSA Consulting is a highly experienced team, with a dedicated focus on our kind of clients and an integration technology and methodology that fits perfectly with our solution," says Nick Schils, Founder and CEO of TIQ. "We have had a lot of positive feedback and interest from Nordic firms, and given the fact that the Nordic firms often are early adopters of new technology, we have been looking for a partner with this focus and skills to help us grow in this important market."
Nick Schils
Founder & CEO TIQ
About TIQ

TIQ is a fast growing legal tech company located along Amsterdam's canals. Our award-winning solution for automated time tracking helps legal professionals become more productive and find back lost revenue. We love the fact that our tech makes people work smarter and more efficient. TIQ was founded in 2015. That same year, we were part of the prestigious Microsoft Ventures Accelerator programme. On this day we work with over 40 firms located in four countries.


About PSA Consulting

PSA – Professional Services Automation. We unlock value trapped in the operations, systems, people and business models of professional services organizations by delivering intelligent digital transformation via cutting-edge applications, solutions and technologies designed to unleash the power of the intelligent professional services organizations, allowing you to stay ahead of the digital curve. We digitize processes and integrate data across the organization so that your employees are empowered to deliver outstanding quality work and maximize client lifetime value.